Christmas Markets – what are they and how did they start?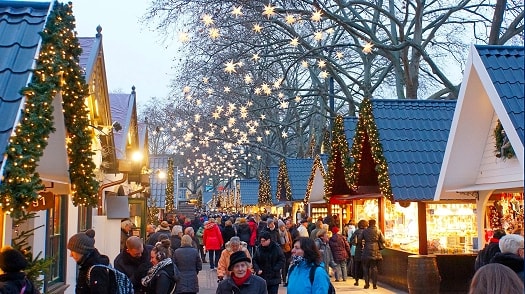 Christmas is coming and the shops are stocking the shelves with the usual Christmas tat. It's the same old goods rolled out to tempt us to part with our hard earned money again. But not to fear there is a way to take a break from dull department stores and rekindle that childhood memory of Advent by shopping in a genuine Christmas Market. Over in Europe the Christmas Market has a few different names, Christkindlmarkt, Marché de Noël, Christkindlesmarkt, Christkindlmarket, and Weihnachtsmarkt. Whatever you call them they all celebrate the 4 weeks of Advent.

You can find Christmas markets all over Europe but they originated in Germany back in the middles ages. Without a doubt Germany knows how to do them best with a collection of small wooden huts decorated with fairy lights, selling traditional gifts and decorations and not forgetting the warm food and drink.

In the UK Christmas Markets were very popular until Oliver Cromwell banned the celebration of Christmas and so the Christmas Markets died out instantly. It was only when the monarchy was restored in 1660, following the death of Oliver Cromwell from natural causes two years earlier, that such traditions began to be re-established. During the Victorian era there were many markets which sold Christmas related goods and food products during the run up to Christmas but these markets were not known as Christmas Markets.


It's big business these days where in Germany there is estimated to be around 2,500 markets attracting well over 150 million visitors every year and grossing some £4 billion. Over in Europe on opening night onlookers welcome the "Christkind" (originally boy Jesus, but more often depicted as an angel-like girl), acted out by a local child, especially at the Christkindlesmarkt in Nuremberg.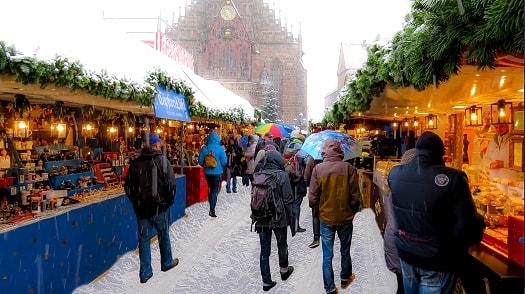 The first UK Christmas Market that was reinstated was the Lincoln Christmas Market in 1982 with just 11 stalls which is now been going for over 30 years. The Market lasts for 4 days, has grown to around 300 stalls and attracts 100,000 people. UK Christmas Markets usually have a continental theme to them be it traditional German, French or Italian. Many of the traders at the UK Christmas Markets have been brought across from these countries. There are traditional German Markets now in London, Leeds, Birmingham, Bournemouth, Oxford and Glasgow.
Christmas Markets can be located in all sorts of places such as town centres to stately homes. The length of the Christmas Market can vary from just a week to 6 weeks or more. Why are they so popular? It's a combination of the weather and the soft German language that makes them so appealing. The cold clear nights, the fairy lights and a dose of hot food and drink makes for a fairy tale shopping experience. Bring the kids along and it just turns magical. The Germans have two words that sum it up - kitsch (sentimental and slightly tacky) and gemütlichkeit (warm and cosy hospitality).
Some of the food available at a Christmas Market can include dried plums, stollen, toasted almonds, Bratwurst sausages, meats, gingerbread and traditional Christmas cookies. On the drink side expect to be warmed by Glühwein, hot mulled wine, with or without a shot of brandy and Eierpunsch which is an egg-based warm alcoholic drink.
Christmas Markets are increasing in popularity and are a big pull for towns and cities. The Manchester Market has around 300 stalls and is spread over 8 different parts of the city. Each part has been themed differently so in one area it has a French atmosphere while elsewhere it has a German flavour.
In Birmingham their Christmas Market runs for more than 6 weeks and is so popular it attracts some 5 million visitors and generates revenue of £85 million for the city. The Market is now the biggest in the UK and is one of the biggest German markets outside of Germany and Austria.
Discover More...
So what is Christmas all about?
Read More
How much does the 12 days of Christmas actually cost?
Read More
When should the Christmas decorations be taken down?
Read More
So what is Boxing Day all about?
Read More
All you ever wanted to know about New Year's Day.
Read More