How To Record A Radio Demo Tape....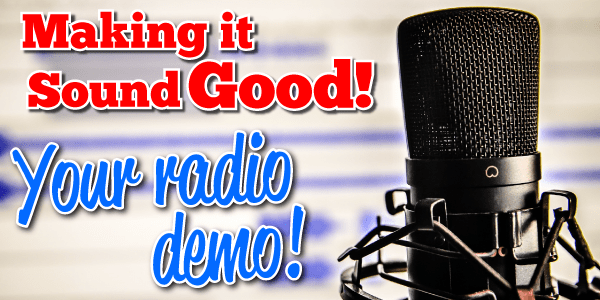 After spending 16 years presenting shows on radio stations in the UK here is my list of tips on how to compile the perfect radio demo tape.
Firstly listen to the station that you are sending the demo to. Listen to how the presenters are performing the links on that station. This should give you a pretty good idea as to how the programme controller likes his/her presenters to sound and what he/she expects to hear.
Analyse their links and do the same type/style on your demo. Each demo will be in a different style depending on the type and format of station that you are applying to. So for example a BBC local radio demo will be a different style to say a demo for Galaxy/Absolute.
Keep Your Demo Short
Try and keep the demo short, 3 minutes is more than enough. (somebody once sent me a demo that kicked off with the weather then three songs in a row and it lasted for both sides of the cassette! the tape went in the bin as they couldn't be bothered editing it and I couldn't be bothered listening to it) If the Programme Controller wants to hear more he'll invite you in or ask for more work to listen to.
Make the first link on the tape your best so as to grab their attention, although this doesn't always work as some PC's fast forward into the demo before they start listening.
Get rid of all the music as they want to listen to you and not 30 seconds of Westlife's new song. Get rid of any name id's as this makes you sound very vain and again they want to listen to you not some jingle singers or butch voice over man.
Finally the PC will be looking to see that you can do the basics of the trade such as reading the following:
the weather
sport headlines
a news story
competition link
chat to a listener on the phone
general link
link for a promotion
delivering a joke
reading a script
Q card
promoting a programme or event. etc. etc.
You don't have to do all these in your demo but you should include at least the weather and a Q card or script somewhere.
The PC will be expecting you to be able to read scripts and deliver information at the right speed (i.e. not reading it at 500 miles an hour) and being coherent.
Try to keep links short, one thought one link is enough, don't waffle.
Don't try to copy the style of a presenter already on the PC's station. He's already got say a Steve Wright or Chris Moyles and will probably not want another one.
Finally be yourself, have your own style of presenting that fits in with the general overall style of the station that you are applying to.
Want to find out more?
Setup your home studio and more demo tips



Read More